Toby and Diana: Steinway Grand Relocate to Gisborne
Thankyou for your wonderful help with the piano move and installation yesterday.
It was such a thrill for me and so exciting I could not settle to do more than tickle the ivories for the rest of the day in a state of wonderment.
It is indeed a beautiful instrument.
Lovely to meet you both and know that we can call on you for moving things in the future - whenever and wherever.
What would we do without people like you?
Again thank you for being the experts you are.
Amoova is a registered business on NoCowboys.co.nz and in order to continually reflect the needs of our customers welcome ratings via this means.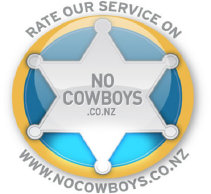 Katrina and Mark: 115m3 Relocate 2 Furniture Shops to Poriua City Centre
"Amoova helped us move 2 shops full of furniture, nothing seemed to hard for them, they are very organised and met our every need. The job was completed in agreed timeframe and no breakages. Excellent men to work with and communication is excellent, thank you very much Alex & Nigel"
Deb: Upright Piano Relocate to Ranui
"Fantastic friendly team!! Thanks for the care you took moving our Piano. Prompt and efficient and available on short notice. Will tell my friends for sure."
Emma: Upright Piano Relocation within Apartment Building Wellington
"Really impressed with these guys, they called about 2 hours prior to confirm the time, and arrived to the minute. They were organised and very efficient, and able to move my piano safely up stairs and through a narrow entranceway. Admittedly they're not the cheapest, but after using a 'cheaper' mover previously and watching in horror as my piano nearly fell down a flight of stairs, the slight extra cost definitely results in extra quality of service. I'd recommend to anyone."
Donna: 65m3 Pack and Relocate to Whakatane
"We have had a stressless move up to Whakatane after living in Titahi Bay for 48 years. Twenty two of these have been in the same house, so you can imagine the stuff that had been collected in this time. My partner also a builder and a top rate horder. Nigel , Alex and crew from Amoova came in and just took all of the stress away for me. These guys Know what they are doing and do it to the highest standard. Nigel offered advice which turned out to be absolutley priceless to me. I could not have done this big move without their support. They have exceeded our expectations. Amoova is an Honest and very reliable company to deal with. I would highly recommend this company. Thanks guys for a fantastic job. "
E-mail from Donna:
"Hello Nigel and Alex, Now that the Christmas and New Year rush has finished I thought it time to write to you both and say THANK-YOU for a fantastic job. We havn't taken much out of the shed yet, but it's so easy to find everything in there. You have done an amazing job for us. All the best for 2011 with your company. Regards Donna and Barry"
Richard: Steinway Grand Relocation to Miramar
"I cannot rate them high enough."
Richard: 30m3 Pack and Relocate Paraparaumu
"A great job by a great team"
Gafa: 40m3 Pack and Relocate to Auckland
Thank you for everything the place looks and feels great many blessings to you both. You took the stress away again thanks.
Merry X-mas and again I'd like to thank you for the wonderful job you did for me earlier this year. I haven't changed the position of anything you placed and very much appreciate the attention to making my house a home in a period of which I had so much happening. I will never forget and remain appreciative of your wonderful service.
Jane: Passer by: Steinway Grand Relocate to Kelburn
Have seen these guys moving a Grand Piano up a flight of stairs and was amazed. Talked to them and found to be extremely friendly. Have recommended to friends and have been thanked."

Frith: Upright Piano Relocate to Kelburn
"Amoova were excellent service and excellent value for money, provided same-day service and took care of my piano like their own! Communication was clear and pleasant, and I was kept updated on the move as it progressed. Pricing was more than competitive, but the service provided was excellent - I was very impressed with their specialist equipment for moving pianos and their competence with tight spaces and steep access. The only slight quibble was that they were slightly later arriving than stated. Highly recommended and would move with them again!"
Bridget and Fil: 50m3 Relocation to Tawa
"I would thoroughly recommend 'Amoova'. These guys clearly knew exactly what they were doing. They were professional, prepped us really well, had awesome communication skills, no marks on anything they moved ... and had a sense of humour! There are lots of dodgy guys in this industry and Nigel Alex and Logan certainly arent! Thanks heaps guys - will sing your praises wherever I go :-)"
Noel and Luzy: 52m3 Relocation to Karori
"Fantastic professional service, highly recommended. I've used several house moving companies over the years, and these guys are far better than anyone else. Book them early - these guys are great & you will be disappointed if you have to settle for 2nd best !!"
Anon:
"Simply the best there is - I cannot fault them on anything. Don't bother looking into any other company for your move - Amoova cannot be topped. "
Jenny: 27m3 Relocation to Karori
"Nigel and the team did an excellent job with our move. We are very pleased with how smoothly everything went. Best moving company we've used in Wellington! Thanks"
Reta: 48m3 Relocation to Alicetown
"These guys are fantastic!! Friendly and cheerful in their work and gives interior decorating and home improvement advice on the run if you are open to suggestions. They didn't mind that we were willing to help to get things onto and off the truck, but if we wanted to do nothing that would have been fine also. After seeing them packing the truck for about half an hour we trusted them unreservedly to move the more valuable items which we thought we will move in the car. Nice guys, great service, I wish them all the best for the future and this venture. Oh I nearly forgot to mention the skill of moving the huge truck into small spaces ... Awesome!"
Juanita: Upright Piano Relocate to Ngaio
"Fantastic service that started with the timely response to my email asking for a quote to move a piano, and continued on till the piano was in situ. Piano was professionally wrapped for transit, and delivered with care. Friendly service, that is excellent value for money. "
What some of our customers have said
Richard: Upright Piano Relocation Brooklyn
"I'm a happy man. I just love it when I witness a truly professional company. Can't fault anything from start to finish and it's a breath of fresh air to the system. I'll recommend for sure. Thanks Nigel it was Magic"
Melvin: Upright Piano Relocation to Hataitai
"I am ringing to express my praise of a totally professional piano move yesterday when your guys took the Weinbach piano from my home. I'm not your customer but I was extremely impressed and was amazed at how easy they made it look taking it up a zig zag path and steps in literally seconds. Stunning is the word I'm looking for and think it appropriate to inform your management of the excellent service. "
Teina: 30m3 Relocation to Alicetown
"Amazing! Thanks No Cowboys for helping me find these guys. Friendly, reliable, experienced, great listeners. I will never use anyone else. Thank you so much Nigel and Alex for a stress-free move - I really appreciate the care and thought you put into my move. May be seeing you again soon."
NTG: Trademe Services Rating: 30m3 Relocation to Lower Hutt
"Absolutely, positively awesome. These guys totally changed my fear of movers, having had some horrors in the past. I was met with a handshake and two friendly, organised and super-attentive gents who thoughtfully and carefully moved my 3 bedroom house. These guys totally know what they are doing and I would recommend them to anyone. I may be needing you again guys so I will definitely be in touch. Thanks heaps for a stress-free move, you were just fantastic!"
Maria: Upright Piano Relocation
"Amoova were prompt and very professional. I had a piano moved for cheaper than would be have been possible through the local piano shop, which had previously moved it for me. Furthermore, the piano was well wrapped and protected, which had not been the case with other movers. They were easy to communicate with, made payment easy, and were very concerned with the safety of the piano. They brought plenty of movers to help with concrete stairs and navigating the piano around obstacles, and were calm and careful with these conditions, while still working efficiently. Very impressed with the service. Thanks!"
John: 30m3 Relocation to Lyall Bay:
"These guys were reliable, fast and professional. They saved us from another company who never showed up or called me for their 8am arrival time on 18/2/2011 for which they never showed or called about. I cannot compare price rating here because the other company was $50/hr less than them, but in the end you always get what you pay for!!! These guys are as good as it gets... good work guys! cheers"



Sam: Upright Piano Relocation Wanganui to Miramar
"Thanks for doing a great job with the piano move. "